Watch Video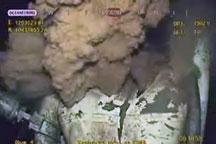 Play Video
The amount of oil gushing into the Gulf of Mexico from the ruptured BP oil well may be a lot more than the company has been publicly saying. Estimates, of 100-thousand barrels a day have emerged from a BP document.
An internal BP document released on Sunday by a senior US congressional Democrat shows that the company estimates that a worst-case scenario rate for the spill could be about 100-thousand barrels of oil per day.
ED Markey, US Congressman, said, "First they said it was only 1,000 barrels, then they said it was 5,000 barrels, now we're up to 100,000 barrels. It was their technology, it was their spill cam, they are the ones who should have known right from the beginning and either to limit their liability or because they were grossly incompetent they delayed a full response to the magnitude of this disaster."
The estimate is far higher than the current U.S. government estimate of up to 60,000 barrels per day gushing from the offshore well.
Meanwhile, as oil continues to soil the U.S. Gulf Coast, Kenneth Feinberg, the administrator of the $20 billion fund set up by BP to compensate victims of the spill, vowed on Sunday to make sure affected residents are compensated quickly.
Kenneth Feiberg, Independent Administrator, said, "I don't think it helps to politicize this program. These people in the Gulf are in desperate straits.
President Barack Obama said last week that by the end of June, 90 percent of the oil leaking out of the well should be captured.
Related stories
Editor:Zhang Pengfei |Source: CCTV.com