Watch Video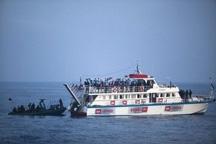 Play Video
Israel says any ships headed to the Gaza Strip will be intercepted as part of the blockade on the Mediterranean territory.
After Sunday's weekly cabinet meeting, Israel's Science Minister said no vessels will be allowed to reach the shores of the Strip.
His comments come after reports that the Lebanese government is under heavy diplomatic pressure to call-off plans to send 2 new ships to Gaza.
Israel alleges that the flotilla's organizers have ties to the Iranian-backed Hezbollah organization, and says the group has urged Lebanese citizens to take part in such trips.
Israel's Welfare Minister called the planned convoy from Lebanon a provocation.
Editor:Zhang Pengfei |Source: CCTV.com