Watch Video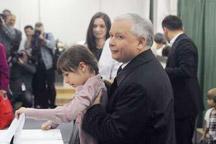 Play Video
Poles have been filling ballot boxes in an attempt to choose a new president. Results show Parliament Speaker, Bronislaw Komorowski, is leading former Prime Minister Jaroslaw Kaczynski. But Komorowski appears to be short of the 50 percent needed for an outright victory.
As commander in chief, the President can veto laws and has influence over foreign military missions.
More than 30 million Polish citizens are registered to vote in nearly 26-thousand polling station across the country.
The first round of voting produced no immediate successor to Lech Kaczynski. Thus, the two top contenders must now go head-to-head in a runoff vote July 4th.
The front-runner Komorowski is pledging to adopt the Euro in about five years. He also wants to end the military mission in Afghanistan and promote pro-market reforms.
He says he is happy with the voters' support.
Bronislaw Komorowski said, "I will do everything that I can do before the second round. I'll also be counting on the help of all gathered here and all the people in Poland to reach the hearts and minds of all voters who will have to make a choice in the second round."
But Kaczynski is more skeptical about the European Union and adoption of the Euro. His goals are to fight crime and corruption, scale back market reforms in order to preserve a strong welfare state and promote Roman Catholic values.
Jaroslaw Kaczynski, said, "These elections are not finished. Our conviction is that we can win and we have to win."
Kaczynski's base is made up of older, rural and religious Poles, and often pushes Catholic values such as upholding the country's strict abortion laws and opposing gay rights.
An exit poll shows Komorowski with 45.7 percent of the vote and Kaczynski with 33.2. A second poll shows 41.2 percent for Komorowski and 35.8 for Kaczynski.
Candidate Jaroslaw Kaczynski, twin brother of the late President Lech Kaczynski,
who was killed in a plane crash in Russia, lifts his brother's granddaughter
Eva to cast his vote in the presidential election in Warsaw on Sunday, June 20,
2010. Poles are voting Sunday to choose Lech Kaczynski's successor. (AP Photo/
Alik Keplicz)
But vacation season could also affect the outcome, with many wealthier Poles expected to be traveling and less likely to vote. This is a factor that could hurt Komorowski.
Related stories
Editor:Yang Jie |Source: CCTV.com