Watch Video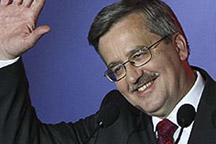 Play Video
For more analysis about Poland's election, we're now joined by our Current Affairs Commentator, Dr. Gao Zhikai, in our studio. Hello, Dr. Gao, welcome ...
Q1: Exit polls on Sunday showed that Bronislaw Komorowski and Jaroslaw Kaczynski will face off in a second round of presidential voting, for no one secured an outright victory by garnering over 50 percent of the vote. What do you think is the most important factor that would influence the run-off vote on July 4th?
Q2: What are the main differences between the two's vision on Poland's future? Will the one who wins the election lead Poland down a different path of development from the other one's?
Editor:Yang Jie |Source: CCTV.com