Watch Video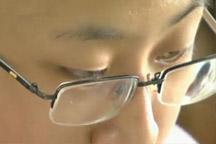 Play Video
China has released the National Outline for Medium- and Long Term Educational Reform and Development. It is hoped the plan will provide inspiration in the search for solutions to some of the most persistent challenges facing education in the country today.
Education plays an important role in the development of any country.
This is especially true in China.
On Monday, the political bureau of the CPC central committee approved the "National Outline for Medium and Long Term Educational Reform and Development".
President Hu Jintao stressed that education is the basis of social development.
Education is always a priority for the government, and Hu Jintao promised to improve quality and accessibility in the coming decade.
The document pinpoints China's strategic goal for education before 2020.
One of the key points is reforming the annual college entrance Examination.
High schools, colleges and universities shall adopt more flexible enrollment policies.
And exams will eventually be classified according to different types of education.
The Ministry of Education will be in charge of entrance exams for tertiary education, while provincial education departments will oversee those for vocational schools.
The Outline says the top task in the coming ten years is to guarantee equal access to education while enhancing its quality.
The government is to promote the balanced development of compulsory education in urban and rural areas.
In 2009, the central government approved an education fund of about 198 billion yuan.
About a third went to compulsory education in rural areas.
And 28.7 million children from poor families received financial aid for their schooling.
The central government will increase funding for improving facilities in elementary and middle schools, particularly those in the rural central and western regions.
China will also support the development of vocational and private education.
Another priority is reducing the study load on primary school students.
Editor:Yang Jie |Source: CCTV.com