Watch Video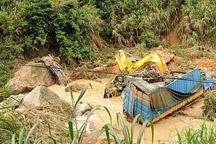 Play Video
Torrential rainfall has caused road blocks in many areas of Fujing Province and relief work is going on in the disaster-hit area. Trevor Metz takes a closer look at the storm hit area.
In Taining County, massive landslides have caused road blocks. Handing out relief materials has met with many difficulties. Repair work is time consuming. Main areas such as hospitals and markets have almost returned to normal.
In Jianyang City, 500 students in the Jianyang Second Middle School have been trapped on campus for a day and night. Through nearly 5 hours of hard work by the stationed troops, all the students were transferred safely.
Roads to Wangtai county in Nanping city have been blocked by massive landslides triggered by the torrential rain.
Crops have also have been badly damaged.
Rescuer, said, "We have been digging for two days, and we have only dug 400 meters. The situation is bad."
More than 3,000 residents have been trapped inside the village. Some villagers have used small trees and branches to build a makeshift path to get out of the flooded villege.
But it is still difficult to walk and some of them had to scramble to get out of the village.
Houses have been demolished by landslides. Some of the buildings have even been swallowed up.
Power and water supplies have been cut and food is another main concern.
Aid materials are arriving to the worst-hit regions.
Related stories
Editor:Yang Jie |Source: CCTV.com