Watch Video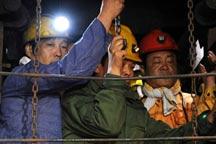 Play Video
An explosion at a coal mine in central China's Henan Province, has killed at least 47 people. 28 miners have escaped to safety. Almost a day after Monday's early morning accident, rescue work is almost complete and The mine's owners have also been detained.
The accident happened in Pingdingshan City of Henan Province at about 1:40 early Monday morning.
A total of 75 miners were trapped after explosives went off at the powder magazine of the Xingdong Number 2 Mine. The city government of Pingdingshan confirmed that 28 miners escaped but the other 47 were killed. The survivors wounded by burns and toxic gas are under medical treatment.
A doctor said, "Thirteen survivors were sent to our hospital, and three of them are in critical condition.It will take about one month for them to be out of danger."
The low gas-concentration mine has an annual production capacity of 90,000 tons. Its mining permit had expired half a month ago and the local government cut off its electricity. However, the mine owner illegally organized the miners to continue production. Authorities say the people in charge have been taken away by the police.
President Hu Jintao and Premier Wen Jiabao called for every effort to save the trapped miners and prevent any more accidents.
The working team dispatched by the central government has been at the scene to guide the disaster rescue and relief work.
Editor:Zhang Ning |Source: CCTV.com