Watch Video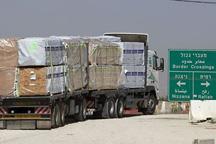 Play Video
Dozens of trucks transferred supplies into Gaza on Monday, following Israel's weekend announcement that it would further ease restrictions on the flow of goods into the Hamas controlled territory.
Israel says it now allows everything into Gaza except weapons and other items deemed to have a military use.Cui Lingnan has more.
Goods were being unloaded from trucks at the Gaza Kerem Shalom crossing in southern Israel on Monday.
Israel's Prime Minister, Benjamin Netanyahu, told the parliament's foreign affairs and defense committee that the easing of the blockade is an important decision.
He said, "An important decision was made on Sunday by the security cabinet. Its meaning is clear, on one hand letting civilian goods into Gaza and on the other preserving a security blockade on Hamas. Our policy is intended first of all to protect Israeli citizens against terror and the firing of rockets from Gaza. The decision was precisely intended for implementing this."
Netanyahu also told the panel, that the decision was coordinated with the US and Mideast Quartet Envoy Tony Blair.
The Israeli military said on Monday that it is ready to increase the transfer of food and household items into Gaza by 30 percent. It also said it plans to meet with international agencies to discuss advancing other projects, including the construction of schools, hospitals and infrastructure facilities.
Despite having eased the land blockade, Israel maintains a naval blockade to prevent weapons from being transported to the Hamas group, which controls Gaza.
Editor:Zhang Jingya |Source: CCTV.com