Watch Video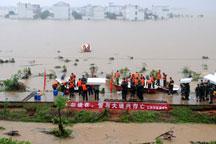 Play Video
The second longest river in east China's Jiangxi Province has breached a dyke in Changkai County, threatening around 145,000 residents. So far,more than 1,200 people have been rescued.
The dyke at the Changkai section of the Fuhe River burst Monday evening, threatening the safety and property of people living in the area.
"The flood water surged, people did not have the chance to run away." Local resident said.
The breach has now widened to 500 meters.
More than 80 boats sent by the State Flood Control and Drought Relief Headquarters have arrived at the scene.
More than 2,000 soldiers and another 2,000 civilians have been mobilized by the provincial government for rescue and relief work.
Song Quanzhong, Official of Jinagxi Fire Brigade, said, "Life is the priority. We'll tackle all the difficulties and try our best to help local people as quickly as possible."
About 35-thousand people have been evacuated to safety. No casualties have so far been reported.
Authorities in Fuzhou City have set up 17 make-shift shelters at stadiums and local schools for flood victims.
As part of its emergency response, the provincial government has sent 800 boxes of disinfectant and eight trucks of mineral water and instant noodles to the people in the affected areas.
Editor:Zheng Limin |Source: CCTV.com