Watch Video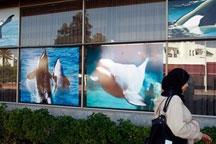 Play Video
The International Whaling Commission has held its most important meeting in decades, in Morocco. Nations have been discussing whether to suspend the 25-year ban on commercial hunting in favor of a more enforceable regime of limited whaling.
A proposal before the 88-member commission aims to get Japan, Norway and Iceland to reduce the annual number of whales they kill, in exchange for ending their rogue status.
Many nations oppose allowing whale hunting. Others agree only if the Antarctic whale sanctuary is respected, and the number of whales killed is drastically reduced.
Japan's delegate says the whole process should be based on science.
Yasue Funayama, Vice Minister of Japanese Min. of Agriculture, said, " I think there are differences in terms of our position however we have to make the effort to try to make sure that we are able to make the positions close and that is of the utmost importance "
Japan's unrestricted whale hunt is conducted under the guise of scientific research. But it sends more whale meat to sushi bars than laboratories.
Since the ban took effect, more than 33-thousand whales have been killed.
Several environmental groups have urged an immediate move.
Susan Liberman, Dep. Director of PEW Environment Group, said, "The proposed decision is good but not good enough, and there are six elements we believe must be included, first among those is there must be no whaling in the southern ocean, that's Antarctica, it's a sanctuary and it's time the IWC move forward to truly make that a sanctuary and we believe Japan has the key. It's up to Japan."
The commission also hopes to dispel what its chairman calls an "atmosphere of confrontation and mistrust" that has frozen the agency's work for decades, and to reaffirm its relevance as a regulatory force.
Editor:Zheng Limin |Source: CCTV.com