Watch Video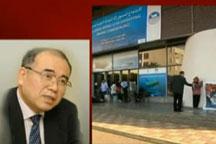 Play Video
To discuss the whaling issue in Japan, we're joined on the line by Professor Takesato Watanabe. Who is in Kyoto, Japan.
1. Thanks for joining us professor. For the first time, the international whaling commission suspended their general meeting on commercial hunting. Why did they make this decision?
2. There are different groups in Japan concerned about whaling. What are the different views on the issue?
3. Can the whale hunt really bring economic benefit to the fishing industry of the country? If not, why do people still want to continue it?
Editor:Zheng Limin |Source: