Watch Video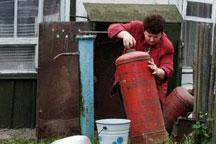 Play Video
Russia slashed natural gas supplies by 30 percent on Tuesday to neighboring Belarus. The move follows Monday's cut of 15 percent, which was triggered by an alleged unpaid bill of nearly 200-million-US-dollars for gas already provided.
On Monday, Russian President Dmitry Medvedev ordered state-owned monopoly Gazprom's chief to implement the cuts to protect the interests of Russia.
Alexei Miller, Gazprom Chief, said, "From 10 a.m. Moscow time on the 21st June 2010 the amount of gas delivered to the Republic of Belarus will be reduced by 15 percent. The planned daily amount will be reduced gradually down to 85 percent of the original volume."
Russian Prime Minister Vladimir Putin supported the decision, but said the flow of gas wouldn't immediately be reduced by 15 percent.
Vladimir Putin, Russian Prime Minister, said, "Gazprom's actions are well founded and based on the current contract. Speaking bluntly, within the framework of the contract, Gazprom can reduce the flow by up to 85 percent, and more, but this is not being done because of our special relations with the Belarusian users and in order to give our Belarusian partners and colleagues time for the chance to react to the demands of their Russian partners."
Last week, Russia warned Belarus to start paying off the bill or face cuts. Gazprom has demanded Belarus pay 187 US dollars per one-thousand cubic meters of gas this year. Belarus insists that the cheap gas is part of a customs union deal with Russia, it reached late last year and will come into force on July the first. The demand has already been rejected by Moscow.
Russia has cut gas supplies to both Ukraine and Belarus several times in recent years due to payment disputes. Many other European customers have suffered during freezing winters as a result. Gazprom says that won't happen this time since gas supplies can be channeled through another pipeline via Ukraine.
Editor:Zheng Limin |Source: CCTV.com