Watch Video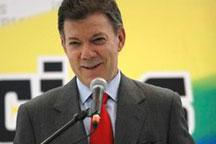 Play Video
Colombian President-elect Juan Manuel Santos says he wants to improve relations with Venezuela. He's also expressed his willingness to maintain a strong alliance with the United States and restart the country's faltering economy.
Santos has a strong mandate to work on relations with Venezuela after winning a landslide victory on Sunday.
Juan Manuel Santos, Colombian President-elect, said, "We have the best intentions and willingness for the government of Venezuela to feel tranquil and to trust that we want these relations to normalize for the good of our people."
Santos also hopes Colombia can continue its partnership with the US, which has been a strong ally in the fight against drug trafficking.
"With the United States, we will continue collaborating in the fight against drug trafficking for Colombia, and we have said many times that this is not simply a problem of public health, it is a problem of national security. We have to continue combating drug trafficking." Santos said.
Meanwhile, Santos says he is not looking to sell state assets to private companies to deal with the country's faltering economy.
The public in Colombia expects much from the new government.
" What do we expect from the new president? We expect continuity from president Uribe and that he does the best for the country."Said local resident.
Juan Manuel Santos won 69 percent of the vote in the presidential runoff election.
Editor:Zheng Limin |Source: CCTV.com