Watch Video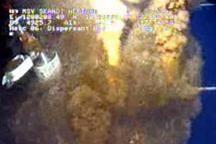 Play Video
US officials say the government and BP are discussing new ways to collect oil from the blown-out Macondo well, in case a hurricane disrupts ongoing collection efforts.
Coast Guard Admiral Thad Allen told reporters at a briefing in Washington on Tuesday, ideas include rerouting oil from the leaking undersea well through a seabed pipeline, to one or more nearby offshore platforms not being used for production.
It also includes talks of routing leaking oil into an unused reservoir deep under the ocean floor. The ideas emerged in a meeting last week with U.S. Energy Secretary Steven Chu, U.S. Interior Secretary Ken Salazar, BP officials and other industry representatives.
Related stories