Watch Video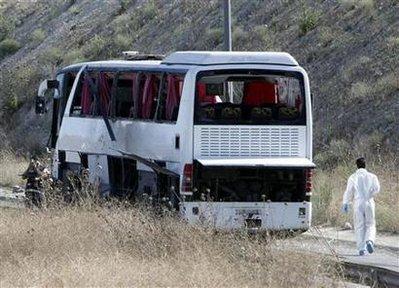 Play Video
Turkey's Local News Agency says the Kurdish rebel group TAK, Kurdistan Freedom Falcons, has claimed responsibility for Tuesday's bomb attack. The blast killed at least five people on a shuttle bus carrying military personnel in Istanbul.
The remote controlled roadside bomb on Tuesday went off on a usually quiet side road as the bus passed shortly after leaving a military housing complex.
Three victims died at the scene with the others dying in hospital.
Authorities stepped up security across Turkey, fearing more attacks.
The bombing raised the number of Turkish soldiers killed in rebel attacks since Friday to 17.
The Turkish Prime Minister has vowed to combat terrorism within his country.
Recep Tayyip Erdogan, Turkish PM, said, "We will do whatever it takes to continue the struggle against terrorism. Every single need will be met. With a strong and powerful will, we are continuing the fight."
The Prime Minister also pledged more moves to grant cultural rights to minority Kurds.
He says the government has allowed Kurdish language courses, opened a Kurdish language faculty and allowed broadcasts in Kurdish on state television.
Kurdish rebels accuse Turkey of not establishing dialogue with them or with imprisoned Kurdish rebel chief Abdullah Ocalan, as well as refusing to declare an unconditional amnesty or to allow Kurdish language education in schools.
Related stories