Watch Video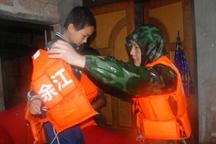 Play Video
The water levels of major rivers in east China's Jiangxi Province and central Hunan Province have started to recede after heavy rainstorms pounded the regions.
More than 90,000 people affected by flood waters have been evacuated. So far, there have been no deaths reported. More heavy rainfalls are expected to hit those two provinces in the coming days. Local authorities have stepped up efforts to get more local residents to safety before the wild weather hits. Jiangxi Provincial government has already earmarked funds to help relocate the residents.
Su Rong, Provincial Party Secretary, said, "We will evacuate all the residents out of the areas at risk before darkness today. Therefore, we have decided this morning that the work will be shifted to the residents' relocation. We will not set up tents and shelters any more to relocate residents. Schools have been closed during summer vacations. We will utilize classrooms and student accommodation to help relocate residents. And all of them will have food and a bed within 3 days.
Editor:Du Xiaodan |Source: CCTV.com