Watch Video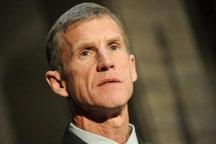 Play Video
US President Barack Obama has relieved his top commander in Afghanistan of duty, over inflammatory comments that angered the White House.
Obama also picked General David Petraeus to take over the war effort from General Stanley McChrystal.
Following a 30-minute meeting at the White House, US President Barack Obama relieved General Stanley McChrystal of his command in Afghanistan.
McChrystal had been summoned by Obama to explain remarks he and his aides made in an article disparaging the US President, and other senior civilian leaders.
Barack Obama, US President, said, "As difficult as it is to lose General McChrystal, I believe it is the right decision for our national security. The conduct represented in the recently published article does not meet the standard that should be set by a commanding general. It undermines the civilian control of the military that is at the core of our democratic system, and it erodes the trust that's necessary for our team to work together to achieve our objectives in Afghanistan."
The commander made the controversial comments to Rolling Stone magazine. In a profile titled "Runaway General," which appears in this week's edition of the publication, McChrystal said he felt betrayed by the US Ambassador to Afghanistan, Karl Eikenberry.
He also told the magazine that asking for more troops from Obama was "painful," adding that the President had him in "an unsellable position" of requesting an increase in forces.
Obama says he will not tolerate divisions within his national security team, stressing that the switch in generals is a change in personnel, but not policy.
After announcing the nomination of David Petraeus, who happens to be McChrystal's immediate superior, Obama urged the Senate to confirm the change as soon as possible.
Petraeus served as the top US commander in Iraq during former President George W. Bush's 2007 troop surge in that country.
Related stories
Editor:Zhang Pengfei |Source: CCTV.com