Watch Video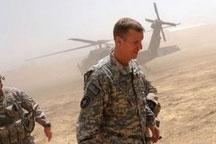 Play Video
Afghanistan's leadership will apparently hate to see Stanley McChrystal go.
Before President Obama's announcement, Afghan officials voiced support for the general, saying that firing him would disrupt progress in the war, and could jeopardize a pivotal security operation underway in the Taliban's southern strongholds.
Wahedd Omar, Afghan Presidential Spokesman, said, "General Stanley McChrystal has been a trusted partner and he has been one of the most important figures in this partnership and, in our belief, the continuation of his mission here in Afghanistan, the continuation of the implementation of his strategy in Afghanistan, which we have commended, and which we have expressed our trust in, is going to be a very important milestone for success here in Afghanistan."
Later, regarding McChrystal's replacement, the spokesman for the Afghan President said David Petraeus "will also be a trusted partner."
US allies have responded as well. NATO Secretary-General Anders Fogh Rasmussen said the alliance's strategy in Afghanistan will remain unchanged.
British Prime Minister David Cameron's spokesman said the UK remains "absolutely committed" to the strategy in Afghanistan. Germany, meanwhile, has expressed regret.
Related stories
Editor:Zhang Pengfei |Source: CCTV.com