Watch Video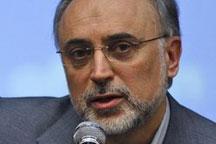 Play Video
The head of Iran's Atomic Energy Organization, Ali Akbar Salehi says scientists there have now produced 17 kilograms of uranium enriched to 20 percent.
He adds that his nation can now enhance the element to any level of purity it wishes.
Iran has been producing the 20 percent enriched uranium since February. And now Ali Akbar Salehi says the country has the potential of producing five kilograms of such highly enriched uranium every month.
He notes it is Iran's legal right to enrich uranium.
The Iranian official says the 20 percent purity level is needed for use in a medical research reactor, but remains far below the more than 90 percent threshold required to build a nuclear weapon.
The Iranian annoucement came as tension mounts over Tehran's ban of two UN nuclear inspectors from entering the country earlier this week.
Tehran claims the two individuals' latest report on Iran's activities is false, adding that they disclosed its content before the International Atomic Energy Agency reviewed the document.
The ban is the latest twist in Iran's deepening tussle with the IAEA and the West over its nuclear program.
US officials, are expressing concern that Iran may be moving closer to being able to make weapons-grade uranium. Iran has denid the charge.
Related stories
Editor:Zhang Pengfei |Source: CCTV.com