Watch Video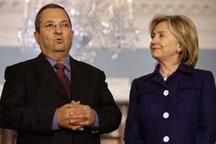 Play Video
Israeli Defense Minister Ehud Barak has visited Washington. In a meeting with US Secretary of State Hillary Clinton, the two leaders discussed the revival of Israeli-Palestinian peace talks.
The trip comes just weeks after Israel's deadly raid on a Gaza bound flotilla that killed nine people, and heightened tensions in the Middle East.
Barak reviewed his country's latest decision to ease a land blockade on the Gaza Strip to allow in all goods, except for arms and materials used to make weapons.
He pledged that Israel will continue to expand the flow of goods into the territory in the coming days and weeks.
Barak also called for the revival of peace talks, and urged all players in the region to put aside their hostilities.
Ehud Barak, Israeli Defense Minister, said, "We are fully committed to work together with the Secretary, and try to find ways to move forward with the peace process in Israel, and put aside all the difficulties that arose in the recent weeks, to put them behind us in a proper manner, in order to concentrate on how to change the direction of the events in the whole area and, in this regard, no one can underestimate the effort and the commitment and devotion and resources that the Secretary puts into helping players in the region to find a way to move forward."
Related stories
Editor:Zhang Pengfei |Source: CCTV.com