Watch Video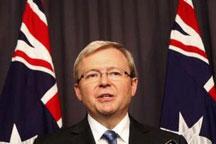 Play Video
Possibly fearing an electoral defeat later this year, Australian Prime Minister Kevin Rudd says he will call for a leadership ballot on Thursday.
The move comes as a number of disgruntled government members seek to replace him with deputy Julia Gillard.
Kevin Rudd called a late-night news conference to announce that the ruling Labor Party will hold a Thursday vote to decide who will lead the party into this year's election.
His surprise move comes after meetings with his deputy, Julia Gillard, and a number of senior ministers. Gillard has made it clear she will challenge Rudd for the top position.
The Prime Minister has been losing voter support over a series of policy failures since shelving the government's carbon-trading plan in April. A planned "super profits" mining tax is also worrying voters concerned it will damage the economy and risk jobs.
Opinion polls indicate Rudd could become Australia's first one-term Prime Minister since 1932, if he loses an election expected to be held in October.
Rudd blames factional power-brokers within the Labour Party for plotting against him, and is vowing to fight the challenge.
Kevin Rudd, Australian Prime Minister, said, "It's time to get on with the business of resolving this as quickly as possible ... there's a national interest at stake. I conclude with where I began. I was elected by the people of Australia to do a job. I was not elected by the factional leaders of the Australian Labor Party to do a job, though they may be seeking to do a job on me ... that's a separate matter."
Australian media outlets have speculated for the past few weeks that the 48-year-old Gillard may topple Rudd before this year's election.
She's widely considered a more voter-friendly politician. But analysts say her leadership would merely represent a change of style, rather than substance.
Related stories
Editor:Zhang Pengfei |Source: CCTV.com