Watch Video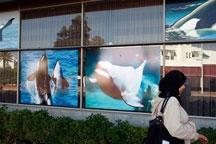 Play Video
The International Whaling Commission's 88 member nations have held two days of intense closed-door talks on a proposal to ease a 25-year-old ban on commercial hunting of the species.
Such activities by Japan, Norway, and Iceland kill hundreds of whales every year.
A key sticking point in the current IWC talks appears to be that the agency designated the ocean south of Australia as a whaling sanctuary in 1994.
Anti-whaling nations sought to end Japan's hunting forays into the sanctuary, ban the international trade in meat from the species, and set firm quotas for the next 10 years.
The proposed deal would let Japan kill 400 whales in the area near Antarctica for the next five years ... a number many countries think is too high, but which Tokyo sees as a major concession.
Iceland's Commissioner says he had hoped for a "limited" compromise.
Tomas Heidar, Icelandic Commissioner to IWC, said, "The obvious compromise between anti-whaling countries, and whaling countries, is limited whaling. And this is what we hoped to achieve here, we were flexible to look at that solution, but we find when we get to Agadir, that so many anti-whaling countries are fundamentally against any compromises that includes even limited whaling. So the obvious conclusion is that there can be no compromise, unfortunately."
Tomas Heidar's country also refused to consider any deal restricting the international sale of whale products. About 1,500 of the species are killed each year by Japan, Norway, and Iceland.
The International Whaling Commission was created after World War Two to conserve and manage whale stocks. Tens of thousands of the aquatic mammals were killed each year, until 1986, when the IWC finally adopted a moratorium.
Editor:Zhang Pengfei |Source: CCTV.com