Watch Video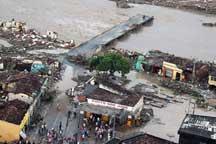 Play Video
Days of heavy rainfall in the Brazilian states of Alagoas and Pernambuco have flooded towns, burst a dam on a river, and killed at least 44 people.
Residents of waterlogged areas in the country's northeast woke up on Wednesday facing even more challenges.
Civil defense workers and local residents have been toiling around the clock to clean up muddy streets and search for survivors under piles of rubble.
More than 40 thousand people have been rendered homeless, and at least 600 individuals remain missing.
The federal government says it will allocate 56 million US dollars for relief efforts, and send 20 thousand baskets of basic food supplies to the two states, as well as mattresses and blankets for thousands of homeless survivors.
Related stories