Watch Video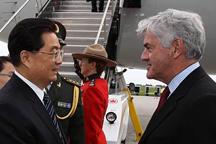 Play Video
This year marks the 40th anniversary of the establishment of diplomatic ties between China and Canada.
Canada was one of the first Western countries to establish diplomatic relations with the People's Republic of China.
Over the 40 years, relations between China and Canada have witnessed significant development.
The two countries have conducted close cooperation at the United Nations, the WTO, G20, APEC and other multilateral organizations.
As for bilateral ties, the two sides have put in place over 40 exchange and cooperation mechanisms that cover a wide range of areas, including economics, trade, judicial systems, militaries, energy, education and culture.
China has become Canada's second largest trading partner, third largest export market and second largest source of imports.
Bilateral trade has grown from 150 million US dollars during the early days to 34.5 billion in 2008.
Even this strong relationship suffered during the global financial crisis as trade dipped to 29.7 billion US dollars in 2009.
Personal exchanges and contact at local levels have also been on the rise.
China is now one of Canada's largest sources of immigrants and overseas students.
Chinese has become the third largest language in Canada after English and French.
Each week, over 40 flights fly across the Pacific Ocean, linking Beijing and Shanghai with Vancouver and Toronto.
Each day, more than 2 thousand people travel between the two countries.
Last year, the two sides issued a joint declaration during Canadian Prime Minister Stephen Harper's visit to China.
They made firm the principles to direct bilateral ties.
With increasing global concern about climate change, environmental protection and new energy development, the two countries have found new opportunities to strengthen their relationship.
Editor:Zhang Jingya |Source: CCTV.com