Watch Video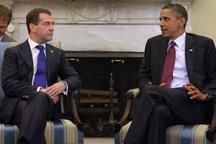 Play Video
U.S. President Barack Obama has declared that he and Russian President Dmitry Medvedev have succeeded in resetting their relationship. He also reaffirmed support for Russia's efforts to join the World Trade Organization.
Barack Obama, US President, said, "Our two countries continue to disagree on certain issues, such as Georgia, and we addressed those differences candidly. But by moving forward in areas where we do agree, we have succeeded in resetting our relationship, which benefits regional and global security. Russia belongs in the WTO. That's good for Russia, it's good for America and it's good for the world economy."
Obama made the declaration at a joint news conference with Russian President Dmitry Medvedev after their meeting in the White House. He also announced that the US and Russia had agreed to expand cooperation on intelligence and the fight against terror while further strengthening economic ties.
Related stories