Watch Video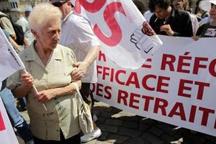 Play Video
Many European countries are speeding up plans to raise the pension eligibility age, in an attempt to balance their budgets. But the idea is proving unpopular all across the continent.
She's 84 and still doing her job - a trip to Wimbledon her latest engagement.
And the UK's Queen Elizabeth may find she represent things to come as Britain prepares for austerity measures and a rise in the pension age.
The government is to speed up plans to raise the state pension age for men to 66 - and the same deal for women is planned a few years later.
Ian Duncan Smith, British Secretary of State for Pensions, said, "You've got to look at the nature of what we are doing - first of all equalization of year so women will be retiring moving up to 65 and than we're talking about moving men to 66 and then women slightly later to 66 so we are looking between 2016 and 2020."
As he chatted to 76 year old supermarket worker, Ray Gill, he said the changes would save huge amounts of government money.
He said, "The net positive for the economy you know we could see huge shift of one percent cut in the economy which is the equivalent of maybe 13 or 14 billion pounds a year growth in the economy, simply by people retiring one year later than they do now so there are huge positives."
But already the idea is proving unpopular - particularly amongst those doing hard manual labor.
John Livemore, Refuse Collector, said, "It's not fair because like you know how many year you going to live after? You're 66 years old - you used to retire at 65 - how long does a man last who does this kind of work - three years ?"
Related stories