Watch Video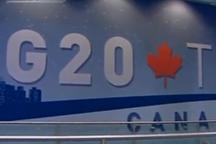 Play Video
The G20, which includes the world's biggest economies and two-thirds of its population, will hold a summit in Toronto this Saturday and Sunday.
World leaders have started to arrive in Toronto for global economic talks at a G20 summit.
On Saturday and Sunday, world leaders from 19 nations and the European Union, including major developing powers as China, Brazil and India, will meet at the Metro Toronto Convention Center.
With the global economy still recovering from its worst slump in decades, the G20 will try and come up with a future plan on how to protect and promote the global economy.
But, they are divided over how to strike the right balance between continued government stimulus spending and confronting ballooning budget deficits.
G20 leaders must also forge consensus on how to harmonize financial regulatory reforms, but they still face differences on the breadth and timing of measures to prevent another meltdown of the banking sector.
The draft version of the Toronto summit communique said the economic recovery was "uneven and fragile." It said "fiscal challenges in many states are creating market volatility,
Editor:Zhang Jingya |Source: CCTV.com