Watch Video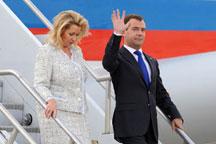 Play Video
World leaders are continuing to arrive in Toronto for the G8 and G20 summit.
Italian Prime Minister Silvio Berlusconi, Russian President Dmitry Medvedev, Japanese Prime Minister Naoto Kan and German Chancellor Angela Merkel all arrived by plane late on Thursda.
The Group of Eight meeting started on Thursday.
The G20 meeting will follow in downtown Toronto, beginning on Friday.
Related stories