Watch Video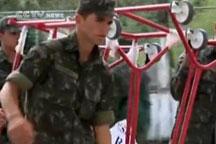 Play Video
The Brazilian army has set up a field hospital in the small northeastern town of Santana do Mundau to treat flood victims and prevent the spread of disease.
The government will also allocate 308 million US dollars to help Pernambuco and Alagoas states confront the disaster which has killed 46 people and left more than 100,000 people homeless.
In Santana do Mundau, one of the worst-hit cities, hospitals were destroyed by the raging flood water.
Many people had to be airlifted to other towns for treatment.
The city's authorities estimate that around a quarter of its 11,000 residents lost their homes.
Most victims are sheltering in overcrowded schools and public buildings, waiting for food and water.
Lieutenant Silva, Alagoas State Firefighter, said, "Because the field hospital is arriving, thank God, the challenges will start showing up. The sewage system will be reinforced, because the little there was destroyed, so sewage is backing up. People do not have running water to wash themselves and all this will mean diseases which will get worse in the future."
Emergency officials say 80,000 parcels of basic food supplies, as well as mattresses and blankets for the homeless are on the way.
Some 80 troops from Brazil's National Security Force will go to the worst hit areas to help in rescue efforts and prevent looting.
Rescue teams have begun to use sniffer dogs to find bodies in Santana de Mudau as well as in other cities. Some 135 people are still missing in Alagoas state and about 400 in neighboring Pernambuco.
Related stories