Watch Video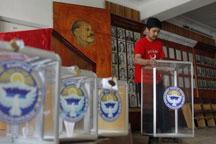 Play Video
Kyrgyz voters are to decide whether to become Central Asia's first parliamentary republic in a referendum.
The country's interim leader Roza Otunbayeva says the vote is crucial to restoring order after a wave of ethnic bloodshed. Under the new constitution, Otunbayeva would remain interim president until the end of 2011, before stepping aside.
Parliamentary elections would be held every five years and the president limited to a single six-year term in office.
Otunbayeva maintains Sunday's referendum is needed to give legitimacy to a government that has never formally been voted in, and paves the way for the Kyrgyz leaders to gain formal diplomatic recognition. But residents in the capital, Bishkek, have mixed feelings.
Roza Otunbayeva, Kyrgyzstan's interim leader, said, "Holding the referendum has become necessary, because we must create a legal framework, if we start now to delay or to cancel it, if will threaten us with further instability or the country sliding
backwards."
Kyrgyz Woman, Gulimira, said, "If the referendum goes ahead our situation will change for the better, so we must participate in it. I am telling everyone I know to go and vote."
Zakirjan Sultanov, Businessman, said, "Can a normal person hold a referendum at the moment? The country is in mourning, it is in poverty, the whole south is in chaos, what do we need with a referendum ?"
Takhir Kadyrov, said, "I will participate, to achieve peace. What else can I do. If they could only find the guilty ones, let them find them."
Related stories
Editor:Zhang Pengfei |Source: CCTV.com