Watch Video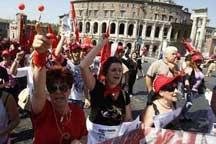 Play Video
Italy's largest union, the Italian General Confederation of Labor, has staged a general strike across the country in protest at the government's austerity measures.
Demonstrators also gathered in Central Rome on Friday to protest the government's move to reduce its budget deficit.
Transport workers brought bus, subway and rail services to a halt throughout the country and airline employees also plan to strike.
The walkout is planned to last a minimum of four hours for private employees and the whole day for public-sector workers.
Union demonstrations are also planned in other cities across the country. The CGIL says the austerity measures are unfair and hurt the weakest workers.
Editor:Zhang Pengfei |Source: CCTV.com