Watch Video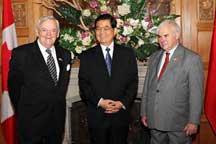 Play Video
President Hu Jintao has met Canadian Speaker of the Senate Warren Kinsella and Speaker of the House of Commons Peter Milliken in Ottawa.
The two sides agree that China and Canada should strengthen cooperation in an all-round manner and further promote their strategic partnership.
During the meeting, President Hu Jintao noted that China and Canada share a long history of friendly exchanges, have many common interests and enjoy broad prospects of cooperation.
He stresses that parliamentary exchanges play an important role in promoting the relationship between China and Canada.
Hun Jintao call on the two sides to strengthen exchanges and expand cooperation, so as to move forward the development of the strategic partnership of cooperation between China and Canada.
Kinsella and Milliken say Canada is willing to have more cooperation with China's National People's Congress.
They congratulate China's great achievements and progress with its economy and express their admiration for China's efforts in the areas of eliminating poverty, increasing job opportunities and keeping the economy growing.
The two speakers hope both nations will strengthen cooperation on economy,tourism and agriculture and discuss ways of solving the problem of food security.
Related stories