Watch Video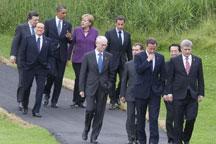 Play Video
The annual Group of Eight summit has opened in Huntsville, in the Canadian region of Muskoka.
Leaders of the world's eight major industrialized countries are discussing key challenges related to development and international peace and security.
The theme of the Muskoka G8 summit is "Recovery and New Beginnings.
Key topics include the UN Millennium Development Goals, maternal, newborn and child health, food security, aid to Africa, and accountability of international forums including the G8 itself.
The Iranian nuclear issue, the denuclearization of the Korean Peninsula, and progress in Afghanistan, Pakistan and the Middle East are also among their discussions.
Canadian Prime Minister Stephen Harper announced on Friday that Canada will contribute a total of 2.75 billion US dollars over five years to maternal, newborn and child health initiatives it strongly advocates.
US President Barack Obama outlined his views on a new approach to development. He called for fostering the next generation of emerging markets, among other issues.
This summit is scheduled to wrap up by Saturday noon, and will be followed immediately by the summit of the Group of 20.