Watch Video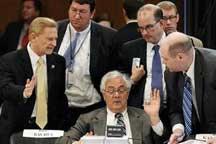 Play Video
US House and Senate lawmakers have hammered out a historic overhaul of financial regulation. The bill aims at cracking down on the abuses that caused the financial crisis in 2008.
In a marathon session of more than 21 hours, legislators agreed to a rewrite of rules that may subject banks and other financial institutions operating in the United States to tougher oversight and tighter restrictions.
Barack Obama, US President, said, "We've all seen what happens when there is inadequate oversight and insufficient transparency on Wall Street. The reforms making their way through congress will hold Wall Street accountable so we can help prevent another financial crisis like the one we are still recovering from."
The bill restricts derivatives trading by banks and curb their proprietary trading to shield taxpayer-backed deposits from more risky activities.
Banks will be allowed to keep most swaps dealing activities in-house. And they will be permitted only small investments in hedge funds and private equity funds.
Lawmakers also agree that banks should face restrictions on their risky trading activities.
The bill sets up a new consumer-protection authority and gives regulators new power to seize troubled financial firms. It also sets up an inter-agency council to monitor system-wide risks to stability.
The reforms must still win final approval from both chambers of Congress before Obama can sign them into law. The reform could go to Obama for his signature by July 4th.
Related stories
Editor:Zhang Pengfei |Source: CCTV.com