Watch Video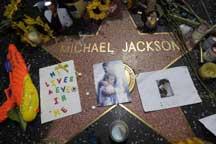 Play Video
On the anniversary of Michael Jackson's death, thoughts are focused on the man and his music. Landmarks associated with the pop superstar are being swarmed by devoted fans.
Jackson's sudden death at age 50 on June 25th last year in Los Angeles sparked an outpouring of grief around the world for the former child star. At the time of his death, he was rehearsing for a series of London concerts aimed at reviving a career shattered by bizarre events and allegations of molesting children.
One year on, with Jackson's personal doctor awaiting trial on wrongful death charges, memories are focused on the artist who won 13 Grammys and whose dancing rocked the world.
At Jackson's star on the Hollywood Walk of Fame in Los Angeles, several fans gathered to lay flowers and reflect on the loss of the entertainment giant.
Jeffry Elsner, Tourist, said, "Well, I can't believe it's already been a year, I was in Dallas at the time when it happened, working, and I heard that Michael Jackson died, so I was like 'what? How's that possible?' He was one of those people that you think is immortal, but everyone's got to go once in a while."
Montoya Denise Brown, Tourist, said, "I can't even put into words, the best entertainer, dancer, just everything to me, I believe that Michael Jackson opened the door to a lot of entertainers out there, and I just really would love for somebody to just respect that and open our eyes and see that."
The cemetery where Jackson is buried near Los Angeles opened its gates to all fans on Friday, but they are not allowed into the vast mausoleum containing his body. Balloons, doves, radios, and candles have also been banned in what officials hope be a quiet and respectful occasion.
Security at the Encino, California home occupied by Jackson's mother Katherine and his three children have been beefed up to handle the several fans that are expected to visit. Some fans came a day early to beat the crowds and pay tribute in peace and quiet.
There are no major tributes planned by the official Michael Jackson estate, which now controls rights to the singer's music, likeness, and other memorabilia.
In the family hometown of Gary, Indiana, matriarch Katherine Jackson unveil a monument to the singer outside the humble house where the legendary Jackson-5 began their singing career half-a-century ago. A memorial and candlelight vigil follow, ending with the song "We are the World."
Related stories