Watch Video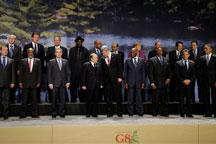 Play Video
The Group of Eight has concluded its 2010 annual summit at Muskoka in Ontario, Canada. Leaders of the eight richest nations have issued a declaration about their shared views and approaches for major global challenges, and adopted the Muskoka Initiative on promoting maternal and child health.
The summit covered a wide range of topics from the UN Millennium Development Goals and food security to climate change and support for Africa, as well as many complex issues of international peace and stability.
As one of the major achievements of the summit, the G8 leaders formally endorsed and launched the Muskoka Initiative, aimed at reducing the number of maternal, newborn and under-five child deaths in developing countries.
According to the Muskoka Declaration, the G8 has undertaken to mobilize 5 billion U.S. dollars of additional funding for the Initiative over the next five years.
In the declaration issued upon the summit's conclusion,the G8 said that its annual summit this year took place as "the world begins a fragile recovery from the greatest economic crisis in generations."
At the closing of the G8 summit, Canadian Prime Minister Stephen Harper said G20 ,which is set to begin in Toronto, has done a magnificent job in dealing with the financial crisis, but the G8 will not be replaced by it.
Editor:Zhang Ning |Source: CCTV.com