Watch Video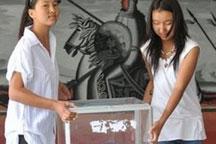 Play Video
Authorities in Kyrgyzstan are busy with making final preparations for the referendum on Sunday. Residents will go to the polls to have their say on Kyrgyzstan's new constitution.
The United Nations has backed the referendum as a key step toward stability.
However, its result is still far from certain.
Hundreds of soldiers in Osh voted early, marking their ballots and sealing them in envelopes under the careful gaze of their commanders. They'll now keep watch over the security of the official referendum on Sunday.
Some voters say they prefer a new, parliamentary form of government, while others say they want to keep the current presidential system in place.
Bishkek resident Zamira Koichieva said, "I will vote for a parliamentary republic because people are tired of the totalitarian regime under the previous two presidents who robbed practically the entire nation."
Bishkek resident Turdybek Osmanaliev said, "I want to vote for a presidential form of government. There should be one person in charge. We, in Kyrgyzstan, have not grown to the level of countries with parliamentary systems. A presidential system is best for us."
Kyrgyzstan's interim government needs the vote to secure its grip on power and prepare for October's parliamentary election.
Interim authorities are urging ethnic Uzbeks to vote in the referendum, even though many of them fled their homes during ethnic violence last week.
Kyrgyz officials have pledged to work quickly to restore identification papers for Uzbeks, many of whom lost them in houses torched by ethnic Kyrgyz.
Editor:Zhang Ning |Source: CCTV.com