Watch Video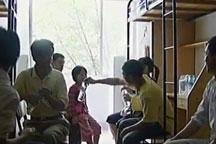 Play Video
Local authorities prioritzed the safe relocation of 10,000 flood victims in Fuzhou city, Jiangxi province. They have been moved to the East China Institute of Technology temporarily. CCTV reporter Xu Zhaoqun is there and met a young student and his family who suffered through the worst of the floods.
Xiao Gu is not at home, but he's safe, with food to eat, water to drink, a warm place to sleep and medical help available.
He's a high school graduate living in this safe haven – dormitories at the East China Institute of Technology.
The campus has never been so busy. All dormitories have been vacated for flood victims.
Flood victim Gu Qiang said, "After the dyke breached, we ran onto the highway. I thought the best option we had was to find a tent. But, I didn't know we would be able to stay here."
Gu's family are living in a room of six. The farmers were a little nervous and curious when they first arrived at their new temporary home. But, they say they are more than satisfied with the living conditions here.
Flood victim Gu Qiang said, "This is much better than staying in a tent."
Meal times are always busy at the institute. The lack of space might not be enjoyable, but the food certainly is.
The local government spends 24 yuan each day for each victim. A student usually spends about 10 yuan each day. Showers are also available for the victims on campus.
Gu's father said, "This might be the best they can do. I didn't have a chance to study here, but I am here now. I brought my entire family here."
Professor Liu Qingcheng, president of East China Institute of Technology, said, "It only took us four hours to vacate all the rooms. The student haven't taken their exams. They are so cooperative. Some of them left a note on the bed, saying the bedding is not new, but clean. Feel free to use them and enjoy your stay.' I do appreciate it so much."
All Gu's relatives are now staying here at the institute, and enjoying the free service of food, water, medicine and use of a telephone. The main thing is they are lucky to be alive, and safe.
Editor:Zhang Ning |Source: CCTV.com