Watch Video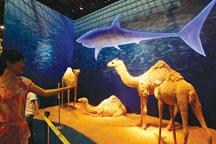 Play Video
Saturday marks Somalia's National Pavilion Day at the Shanghai World Expo. The country is located on the Horn of Africa and is famous for its sprawling deserts and camel transport. Let's now go inside the pavilion and see what this amazing country has on offer...
The theme of the Somalia pavilion is "Boosaaso: A City with Unlimited Potential".
Inside is an exhibition focussed on Boosaaso, a northeastern city of Somalia. It demonstrates the important geographic location and cultural significance enjoyed by Somali cities, and the impact of various cultures on Somalia, particularly on the urban space and lifestyle in Boosaaso.
The layout of the Somalia pavilion features large areas that are interconnected to each other. Visitors can a feel for some of Somalia's unique civilizations and geographical layout, along with its sustainable development and achievements the country has gained in improving the quality of Somali people's lives.
Somalia boasts the largest number of camels in the world, with a total of over 6 million. Its a must give as a betrothal gift for a bride. And you can tell whether or not a Somali family is wealthy simply by the number of camels they own. Somalians even treat camels as members of their own family. When Somalians talk to each other they say hello and then ask each other how their camels are.
Somalia is bordered by Djibouti to the northwest, Kenya to the southwest, the Gulf of Aden with Yemen to the north, the Indian Ocean to the east, and Ethiopia to the west.
Somalia is a member of the Arab League. Despite suffering from civil strife, Somalia has managed to sustain a free market economy.
Editor:Zhang Ning |Source: CNTV.CN