Watch Video
Play Video
A dyke breached after devastating torrential rains in east China's Jiangxi province has been fixed, three days ahead of schedule. This would allow about 100,000 evacuated locals to return home earlier than expected. The Fuhe river, which runs through Fuzhou City, breached its banks on Monday.
Hundreds of people have been working around the clock to re-enforce the riverbank.
They used dump trucks and earth movers to finish repairing the dyke on the Fu River.
Almost all of the victims have been evacuated and no casualties have been reported so far.
Wang Xinyu, Fu River, Jiangxi Province, said, "The repair work has launched a milestone in the process of fighting against floods. The dyke still needs to be built higher to fortify it further."
China sustains major flooding annually along the mighty Yangtze and other waterways, but this year's floods have been especially devastating.
The breach was caused by the unprecedented river levels and poor quality of the bank.
The problems occurred on the Changkai section of the river near Changhu Village, Fuzhou City.
The danger is not over for those in the disaster zone. While water in many major rivers is receding, levels in other rivers are still causing concern.
Crews also cleaned debris and sterilized the flood-stricken areas.
Medical services have been provided to protect the victims from an epidemic. The government has taken antisepsic measures to bury dead livestock. Local authorities have stepped up patrols to inspect the damage.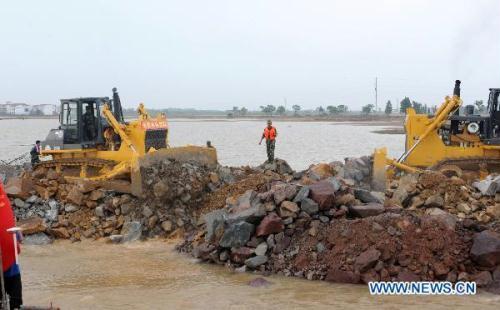 Large machines operate at the site where the Changkai Dike is repaired in east China's
Jiangxi Province June 27, 2010. The Changkai Dike, which was breached after days of
torrential rains in Jiangxi Province, was repaired on Sunday. The river which runs
through Fuzhou City of Jiangxi, breached its banks for a second time early Wednesday,
two days after another section of the dike burst, forcing the evacuation of 1.32
million people, according to the provincial Flood Control and Drought Relief
Headquarters. (Xinhua/Jin Liangkuai)