Watch Video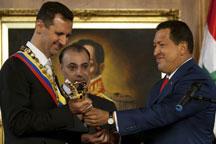 Play Video
Syrian President Bashar al-Assad is on a visit to Venezuela. During a meeting at Venezuela's presidential palace, President Hugo Chavez told Assad it was an honor to host the Syrian leader on his first visit to Latin America.
Chavez presented Assad with a gold-plated replica of a sword that once belonged to South American independence hero Simon Bolivar - the inspiration for his "Bolivarian Revolution." The two leaders signed an agreement to create a 100 million U.S. dollar trade and development fund.
During their talks, Chavez said he supported a peaceful struggle for the return of the Golan Heights to Syria, after being taken by Israel in 1967. Chavez also said Venezuela would "continue to stand firmly besides the Palestinian people and the people of Iran". Following his meeting with Chavez, Assad is due to travel to Cuba, Brazil and Argentina.