A surge in violence in Pakistan's largest city Karachi has devastated several Sunni and Shiite families. Many residents are now living in fear and say they have little hope for justice.
The city's crime watchdogs say they have received 600 murder reports so far this year. Nearly half of them are what they call "target killings", carried out by religious groups and gangs affiliated to political parties.
That's roughly double the number for the whole of last year.
Asif Raza and his brother were killed just days apart earlier this month, both gunned down on the streets of Karachi.
Raza's widow can barely speak because of her grief.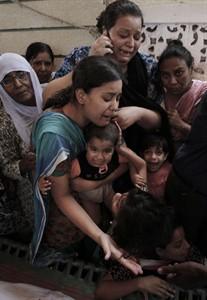 Photo taken on June 19, 2010 shows
a family members of a target killing
victim mourn during his funeral
in Karachi, Pakistan.
(AP Photo/Shakil Adil)
Shagufta Raza, Asif Raza's wife, said, "There is nothing left in my life without him. I feel like God has taken away the soil from under my feet and the sky from over my head".
Police have lodged a case alleging unknown assailants were behind the attack.