Watch Video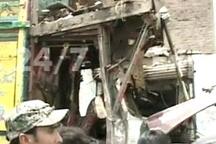 Play Video
A powerful blast killed at least 18 people and injured dozens more in southern Pakistani city of Hyderabad.
Police say the blast occurred in a truck loaded with gas cylinders parked at a truck stand. The blast destroyed shops, hotels, two trucks and a nearby mosque.
The nature of the blast is not clear yet, but some eyewitnesses say a gas cylinder or chemicals on the vehicle might have been the cause. Police officers say a preliminary investigation suggests it was not an act of terrorism, but they did not reject the possibility.
At least 18 people have been killed and 40 others injured in a chemical
tanker explosion near Halanaka area of Hyderabad today.