Watch Video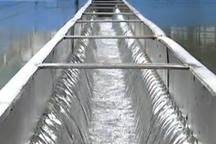 Play Video
Weeks of storms have come to an end in Nanping city in eastern China's Fujian Province. Now the cleanup begins.
The waterworks are the largest in Nanping city. The plant supplies water to most of the people living in downtown.
But now it's threatened by landslides brought by storms.
The retaining wall, made of cement and stone, can no longer do its job.
Bai Jinhong, Nanping Planning Bureau, said, "It is moving towards us 2 millimeters every half an hour."
Zhang Zhaomin, Nanping Deputy Mayor, said, "It will affect 70 percent of the city's people. Now we are cutting some trees to reduce the pull, drilling into the hill to reduce the water and strengthening inspection."
The storms have stopped, but there are still flurries. Plastic sheeting covers the hill to prevent further saturation.
An old pool is ready to replace the one in use in case it's buried by a landslide.
Editor:Du Xiaodan |Source: CCTV.com