Watch Video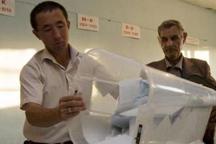 Play Video
Most Kyrgyz voters are saying yes to the country's new constitution. Election officials provided early results with almost all votes counted. The interim government sees the results from the referendum as good news. Liu Yanhua has the latest.
Early results from the Central Election Commission shows an overwhelmingly majority of voters approve the new constitution. In addition, the turnout is high, nearly 70 percent.
Akylbek Sariev, Chief Central Election Commission, said, "According to preliminary information, about 90 percent of the votes cast were in favor of adopting a new constitution. More than seven percent were against, and two percent were spoiled."
The results are seen as a victory for the interim government that took power in April after former President Kurmanbek Bakiyev was ousted.
The interim leader Roza Otunbayeva says with such results, she will be a transition period president. Her administration is no longer considered an interim government but a legitimate one.
Roza Otunbayeva said, "We consider the referendum a success. The new constitution of the Kyrgyz Republic has been approved despite strong resistance from opponents."
Voters discussed why they support the constitutional change.
Related stories