Watch Video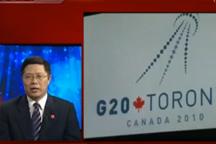 Play Video
For more analysis on the just concluded G20 summit, we're now joined in the studio by Tang Min, Deputy Secretary General of the China Development Research Foundation. Hello Mr. Tang.
1. What's the most important achievement the summit has reached?
2. How will the summit's achievements help the recovery of the world economy?
------------------------------
Q1. The fourth Group of 20 summit concluded on Sunday after leaders of major economies agreed on a set of targets of fiscal consolidation and measures to ensure a strong, sustainable and balanced growth. What's the significance do you think is the G20 Toronto Summit Declaration which was issued on Sunday in safeguarding and strengthening the economic recovery?
Q2. The G20 was determined as the world's premier forum for international economic cooperation at the previous summit in Pittsburgh, the United States last September. How will the Summit play its role in the future?
Editor:Du Xiaodan |Source: CCTV.com