Watch Video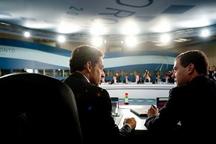 Play Video
World leaders have agreed to take different paths for cutting budget deficits and making their banking systems safer. But in a reversal from the unity of the past three G20 summits, the leaders left room to move at their own pace and adopt what they call "differentiated and tailored" policies.
Stephen Harper, Canadian Prime Minister, said, "I'm confident that all countries that have made these commitments will fulfill them and will need to fulfill them because there will be market pressure. Not just peer pressure, there will be market pressure to fulfill them."
Barack Obama, US President, said, "In each country what we have to recognize is that the recovery is still fragile, that we still have more work to do to make this recovery durable. But we also have to recognize that if markets are skittish and don't have confidence that we can tackle the tough problems of our medium and long term debt and deficits, then that is also going to undermine our recovery."
David Cameron, British Prime Minister, said, "I think this point, that for some countries consolidation is not an alternative to growth it is actually the basis of getting the confidence that will make that growth sustainable, that point has been well and truly understood."
Jose Luis Rodriguez Zapatero, Spanish Prime Minister, said, "For the fiscal consolidation, the group established a recommendation of halving the deficit by 2013 in general. But they know in Europe this recommendation is very demanding. And certainly in Spain we have taken concrete and necessary decisions and have put them into practice to reduce the deficit this year, which would be six percent of PIB (GDP), and of course in 2013, it will be three percent of PIB (GDP). "
Related stories
Editor:Du Xiaodan |Source: CCTV.com