Watch Video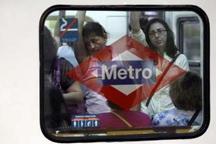 Play Video
Monday, metro workers in Madrid started a three-day strike in protest against salary cuts by the local government. XXX tells us how this is affecting the commute in the city.
On the first day of the strike, underground workers reduced their services in half, delaying the normal activity of more than 2 million users in the Spanish capital.
Veronica, Metro Rider, said, "I always take Line 3 and found the Metro has taken too long to come. So I decided to take the bus but I didn't know which to take. Luckily, I was only two minutes late."
Benedicta, Metro Rider, said, "The metro workers have the right to claim what belongs to them. But we, the riders, are the affected ones."
Monday's industrial strike follows civil servant strikes June 8th against the pay cuts. The government recently passed labor market reform, which left more than one in five workers unemployed. While the measures were not originally aimed at public company workers such as transport, the regional government extended the salary reductions to Metro employees, prompting five unions to call for the strike.
Editor:Du Xiaodan |Source: CCTV.com