Watch Video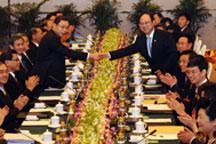 Play Video
Negotiators from the Chinese mainland and Taiwan have conducted preparatory consultations in Chongqing, ahead of the fifth round of cross strait talks. The mainland's Association for Relations Across the Taiwan Straits, known as ARATS, and Taiwan-based Strait Exchange Foundation, the SEF, ironed out the final details of the up-coming talks, which starts on Tuesday.
The vice chair persons of both groups met four days ago in Taipei, to pave the way for the Fifth round of talks to begin.
The two sides are expected to sign off the much-anticipated Economic Cooperation Framework Agreement, or ECFA, as well as an agreement on intellectual property rights protection.
ARATS Executive Vice President, Zheng Lizhong says the ECFA will benefit people across the strait.
Zheng said, "People's needs are the focus of our talks. People's expectations guide the direction of our talks. People's affirmation push the momentum of our talks."
SEF Vice Chairman, Kao Koong-lian says the two sides have set-up a mechanism for routine negotiations.
Kao said, "The negotiations across the strait, which have now become routine, not only set an example within the history of China's development, but also is of global historical significance. "
Earlier in the day, at a welcoming ceremony in honor of the Taiwan negotiators headed by the SEF chairman Chiang Pin-kung, ARATS president Chen Yunlin said the inking of the two agreements will "open a new page" in cross-strait ties.
Chiang Pin-kung said the deal will further remove cross-Strait trade and invest barriers, and benefit people on both sides. He added that the intellectual property rights protection agreement is an inevitable move that will assist the development of high-tech products on both sides of the strait.