Watch Video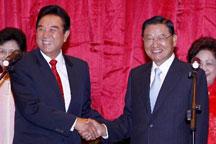 Play Video
The much-anticipated Economic Cooperation Framework Agreement is a pact to set up trade mechanisms, and liberalize trade between the Chinese mainland and Taiwan. Since the inception of the discussions, there have been several key stages in the dialogue between the ARATS and SEF. The pact will give a major boost to two-way trade.
In December 2009, leaders of the ARATS and SEF held their fourth round of dialogue in Taichung, Taiwan, where they exchanged views on the principles of formulating the ECFA.
There have since been three rounds of high-level consultations since January 2010 in Beijing and Taiwan respectively.In the third round, the two sides reached consensus on the text of the agreement.
The landmark pact will cut tariffs on more than 800 products and open up service industries, giving a major boost to two-way trade. The tariff cuts will cover about 15 percent of Taiwan's exports to the mainland, which include petrochemicals and plastics, cars and auto - parts, textiles, machines tools and medical equipment.
The decrease of tariffs will make the mainland market more accessible to Taiwan enterprises. The ECFA will lower the threshold for Taiwan companies to enter the mainland market and strengthen the competitiveness of their products.
It should boost bilateral trade already totaling about 110 billion US dollars a year, which comprises some 80 billion US dollars in goods flowing to the mainland, and 30 billion US dollars to Taiwan.
A private research body in Taiwan has previously estimated that the ECFA could create some 260 thousand jobs in Taiwan, and lift its GDP by around 1.7 percentage points a year.
Related stories